Forza V3 Non-Optic Set (Y1002814)
Forza V3 Non-Optic Set (Y1002814)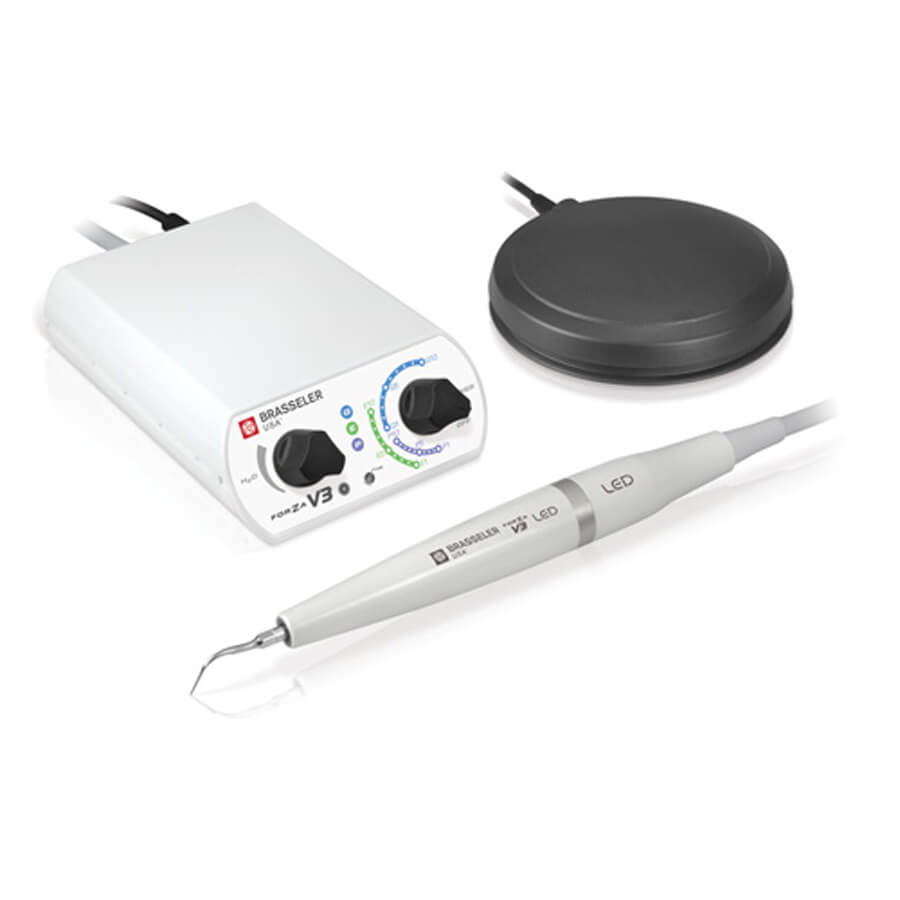 The Forza V3 Piezoelectric Ultrasonic Scaler Non- Optic brings state-of-the-art technology to the dental and hygiene operatory. A slim handpiece design, 3 application modes and an intuitive interface. The Forza V3 provides users a long list of features and benefits all in one compact, space-saving unit.
Features
Packaging
Videos
Forza V3 Piezo Ultrasonic
Elegant and Intuitive – Forza V3 Piezo Ultrasonic
These two words best describe the new Forza V3 piezo ultrasonic from Brasseler USA. At only 33 grams the slim, ergonomic design of the new Forza V3 handpiece provides excellent access while reducing hand fatigue. Stunning LED illumination from dual fiber optics delivers clearer vision and maximum visibility. Equally important is the Piezo Accelerator mode that automatically provides additional power at the moment you need it most. The compact, space saving control unit complements the simple-to-operate interface and can be easily installed in any dental operatory. With a wide range of piezo ultrasonic tips available, the Forza V3 is ideal for a variety of clinical procedures including general scaling, perio and endo.
Features
Compact Control Unit
Simple Operation Control Panel
General, Perio & Endo Applications
Easy Power & Water Adjustment
LED Optic and Non-Optic Options
Forza V3 is available in two options, LED and Non-Optic
Forza V3 LED Complete Set

Forza V3 Non-Optic Complete Set
Set contains:
Control Unit with Handpiece Cord
Handpiece
Control Unit Holder
Water Filter Set
Water Supply Connector
Foot Control
Tip Wrench with Torque Limiter
AC Adapter
Three Scaling Tips (G1, G9 G11)